A Valentine's Day Raspberry Souffle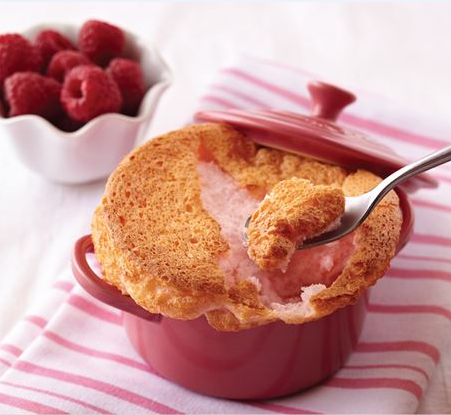 A Valentine's Day Raspberry Souffle
Valentine's Day is an extra special day to honor the people that we love. I think it's important to honor them everyday and to tell them that you love them, but this is the perfect occasion to do something extra special. I love baking fun desserts on Valentine's Day and surrounding myself with flowers. I owned two flower shops many years ago, and I still love flowers. I believe that no gesture (or bouquet of flowers) is too big or too small because it's truly the thought that counts.
This recipe is a favorite of mine because I love raspberries, rosewater, and the color pink! This recipe is designed for cocottes or ramekins for individual servings. You can decorate it with raspberries, or anything else you like.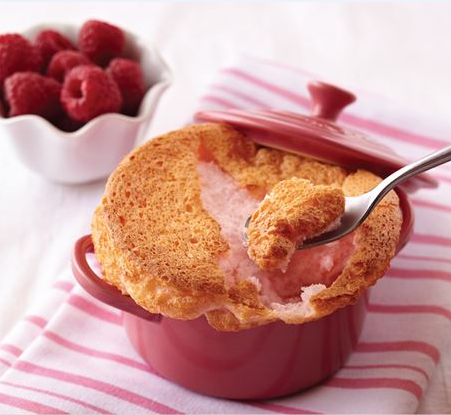 Serves 4 to 6
Ingredients:
1 12 oz pint fresh raspberries
3 tbs granulated sugar for egg whites
6 egg whites
1 tsp rosewater
6 ramekins or cocottes
1 tbs granulated sugar for raspberry puree
½ stick butter for greasing the ramekins
Preheat oven to 400 degrees
Directions
1. In a blender place raspberries and 1 tbs of sugar and blend until raspberries are pureed.
2. Add 1 tsp of rose water to the puree, mix well, remove mixture from blender and put into a mixing bowl.
3. In a large bowl beat the egg whites slowly for a few minutes, then add the sugar. Increase the speed to high until you have stiff peaks.
4. Fold egg whites gently into the raspberry mixture until it is fully blended.
5. Lightly butter 6 ramekins/cocottes.
6. Pour the mixture into the ramekin/cocottes and level it to the top with a spatula.
7. Place in the oven and bake for 13 to 15 minutes.
8. Serve while hot and garnish.
HAPPY VALENTINES DAY!
The Petite Gourmande
© 2018 by Ruth Barnes, all rights reserved












by