Baby Cheesecakes

These wonderful baby cheesecakes are great for entertaining or a little individual treat for yourself with a cup of coffee. I use at least two different types of berries. Perfect for New Year's Eve (they go great with a glass of bubbly!) or any special celebration, your guests will be delighted by the decadent individual portions on a fancy platter and will probably go back for seconds. Double the recipe if you want leftovers.

 Makes approximately 16 pieces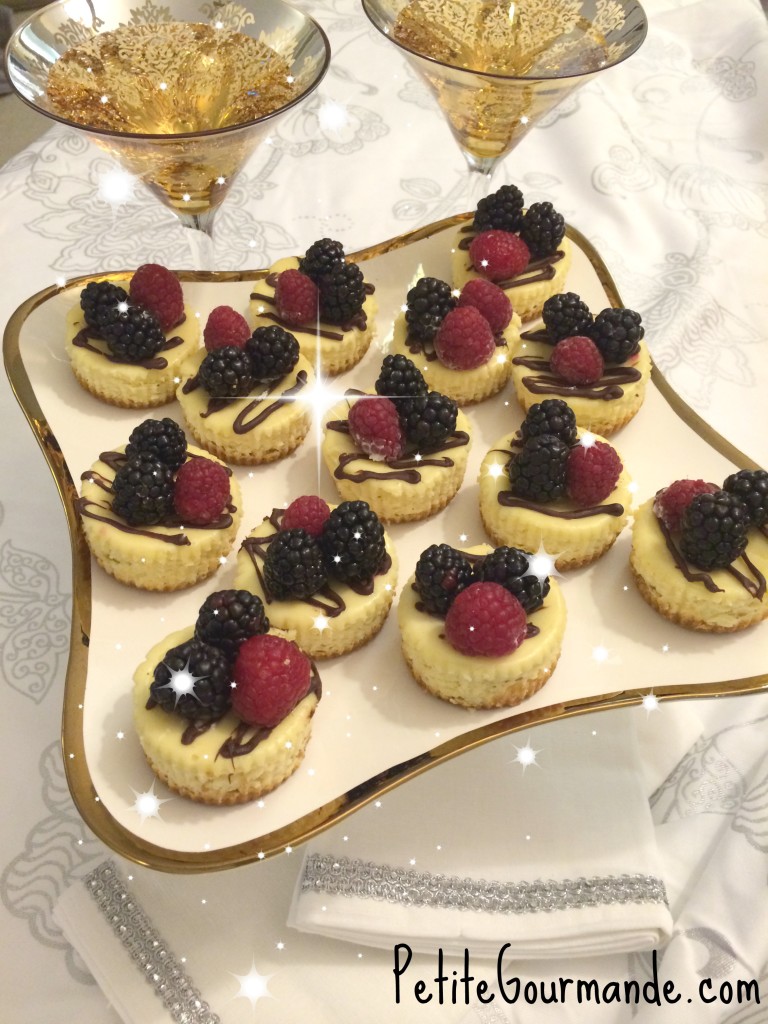 Ingredients:
For the crust
1½ cups graham cracker crumbs
2 sp granulated sugar
3 TB unsalted butter, melted
For the filling and topping
3 8-oz packages cream cheese, softened
2 tsp vanilla extract
2 tsp lemon zest
3 eggs
1 cup granulated sugar
1 TB flour
½ pint each blackberries and raspberries or blueberries for the topping
1 small bag semi-sweet chocolate pieces (for decorative topping)
Directions:
1. Preheat oven to 325 degrees. Line 12-cup muffin tin with cupcake liners.
2. In a medium mixing bowl combine graham cracker crumbs, sugar, and melted butter and mix well.
3. Place one heaping teaspoon of the graham cracker crumb mixture into each cup and flatten to bottom. Set aside.
4. In a standing mixer or using electric beaters, beat the cream cheese on medium low until soft and smooth. Reduce speed to low and add the sugar. Add eggs one at a time, then add vanilla and lemon zest and combine until smooth. Blend in flour and continue to mix on low until completely blended and smooth.
5. Place one scoop of cream cheese mixture into each muffin well, about ¼ cup in each. When all wells are filled, gently tamp tray to settle mixture and avoid air pockets.
6. Place tray in oven and bake for 25 minutes.
7. Remove from oven and let stand until cool, then refrigerate for 90 minutes.
8. Microwave 1 cup of the chocolate pieces in a microwave-safe cup for 30 seconds or until chocolate is melted.
9. Remove cup carefully from microwave and drizzle chocolate over cheesecakes.
10. Top each cheesecake with berries and serve.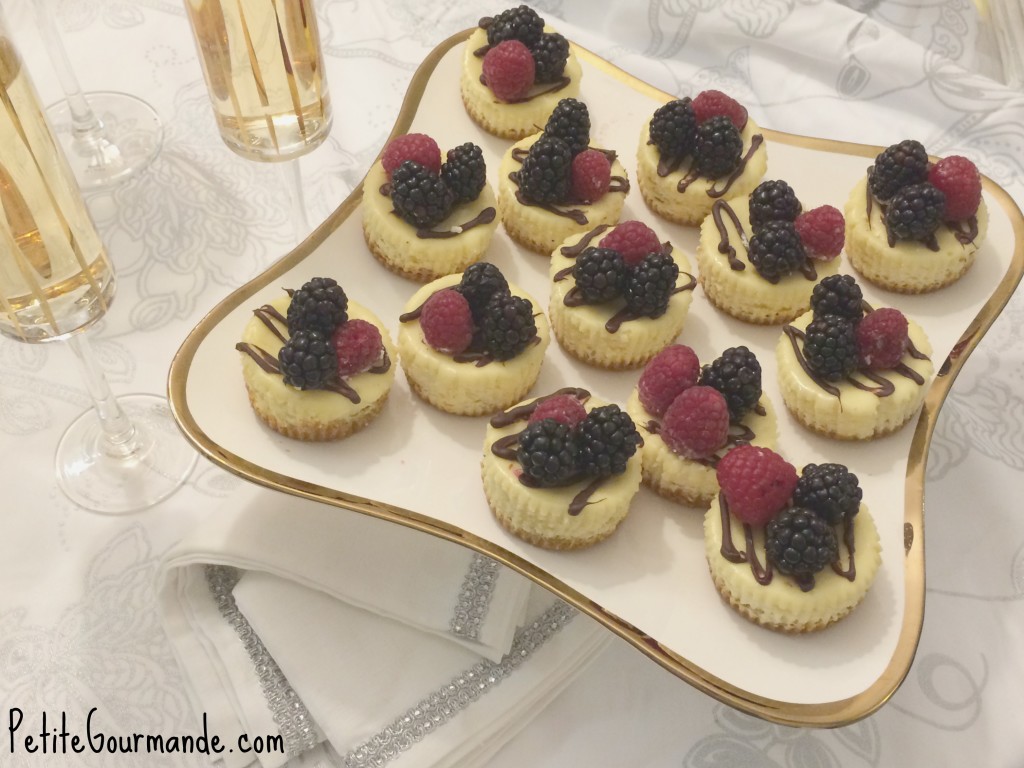 The Petite Gourmande
© 2017 by Ruth Barnes, all rights reserved












by