Banana Macarons with Chocolate Ganache

Macarons come in a rainbow of colors and flavors. These tropical banana macarons are filled with a rich chocolate ganache. One of my trips to the Caribbean inspired me to make these banana macarons.
Serves 18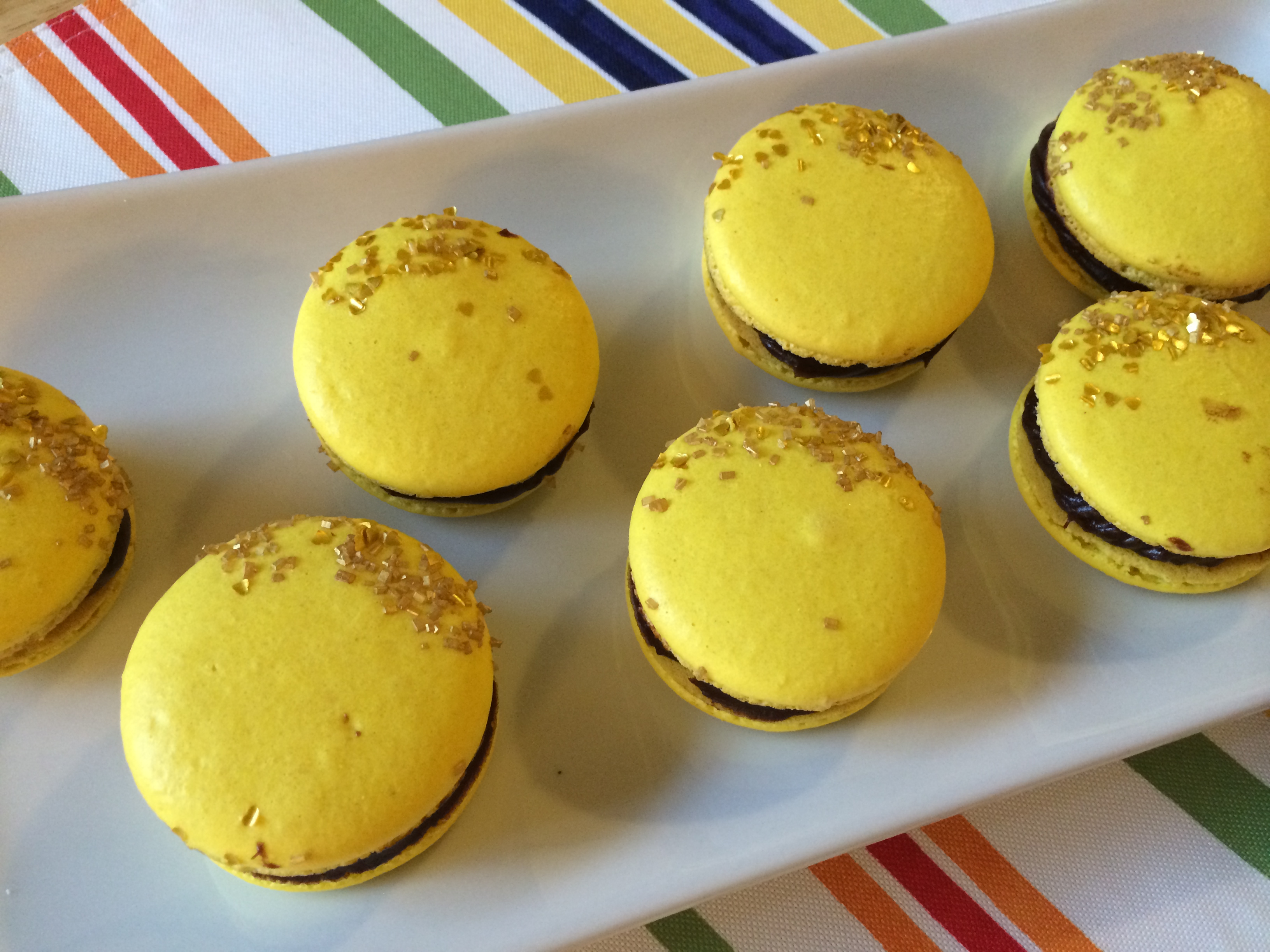 Ingredients for the macaron shells
–  1 3/4 cups of confectioners sugar
–  1 cup ground almond meal
–  3 extra large eggs, room temperature
–  ¼ cup granulated sugar
–  3-4 drops banana extract
–  3 drops yellow food color gel
–  gold edible sprinkles
–  silicone macaron baking mat or double parchment paper
–  16 inch pastry bag
–  one number 12 decorating tip
Ingredients for the chocolate ganache filling
– 8 ounces bitter chocolate (or chocolate of your choice)
– ½ cup heavy whipping cream
– 2 teaspoons unsalted butter
– 16 ounce piping bag
– No. 2 piping tip
Directions for the shells
1.  Preheat oven to 300 degrees.
2.  Sift the almond meal and confectioners sugar into a mixing bowl or blend in a food processor until finely ground. Set aside.
3. Beat the egg whites in a mixmaster with a whisk attachment on medium speed until the mixture is foamy and soft peaks.
4.  Gradually add the granulated sugar to the egg whites and mix on high until the egg mixture is glossy and stiff peaks.
5.  Add the food color and banana extract and whisk on low to combine well.
6.  Gently fold half of the egg white mixture into the almond meal mixture, taking the egg mixture from the middle and up. Continue until all of the egg mixture has been folded into the almond meal mixture and is thoroughly combined (about 30), but not too runny or overmixed.
7.  Place silicone mat or parchment paper onto a baking tray.
8.  Cut tip of pastry bag, place number 12 decorating tip onto end of bag, and twist end to prevent batter from leaking while bag is being filled.
9.  Place pastry bag, tip side down, into a tall cup.
10.  Fill pastry bag with macaron mixture.
11.  Twist top of pastry bag to close.
12.  Untwist the end of the bag with the decorating tip.
13. Pipe 1 and 1/2 inch circles onto silicone mat or parchment paper until all mixture is used.
14. Decorate macarons with gold sprinkles (optional)
15. Let maracons stand for 30 minutes until the top of the shells form a thin skin on the surface.
16.  Place macarons on middle rack of the oven and bake for 15 minutes.
17.  Remove from oven and let stand for one hour.
Directions for the filling
1.  Place chopped chocolate and the butter into a mixing bowl.
2.  In a saucepan, warm the whipping cream on medium heat and remove before it boils.
3.  Immediately pour cream mixture onto the chocolate and butter.
4.  Let sit until chocolate melts.
5.  With a whisk, mix well and let ganache cool.
6.  Place mixture in refrigerator and chill for one hour.
7.  Put piping tip number 2 onto piping bag and fill with ganache.
8.  Pipe ganache onto half of the maracon shells and place remaining shells on top.
9.  Remove macarons from tray and place on decorative plate.
10.  Server with tropical beverage of your choice.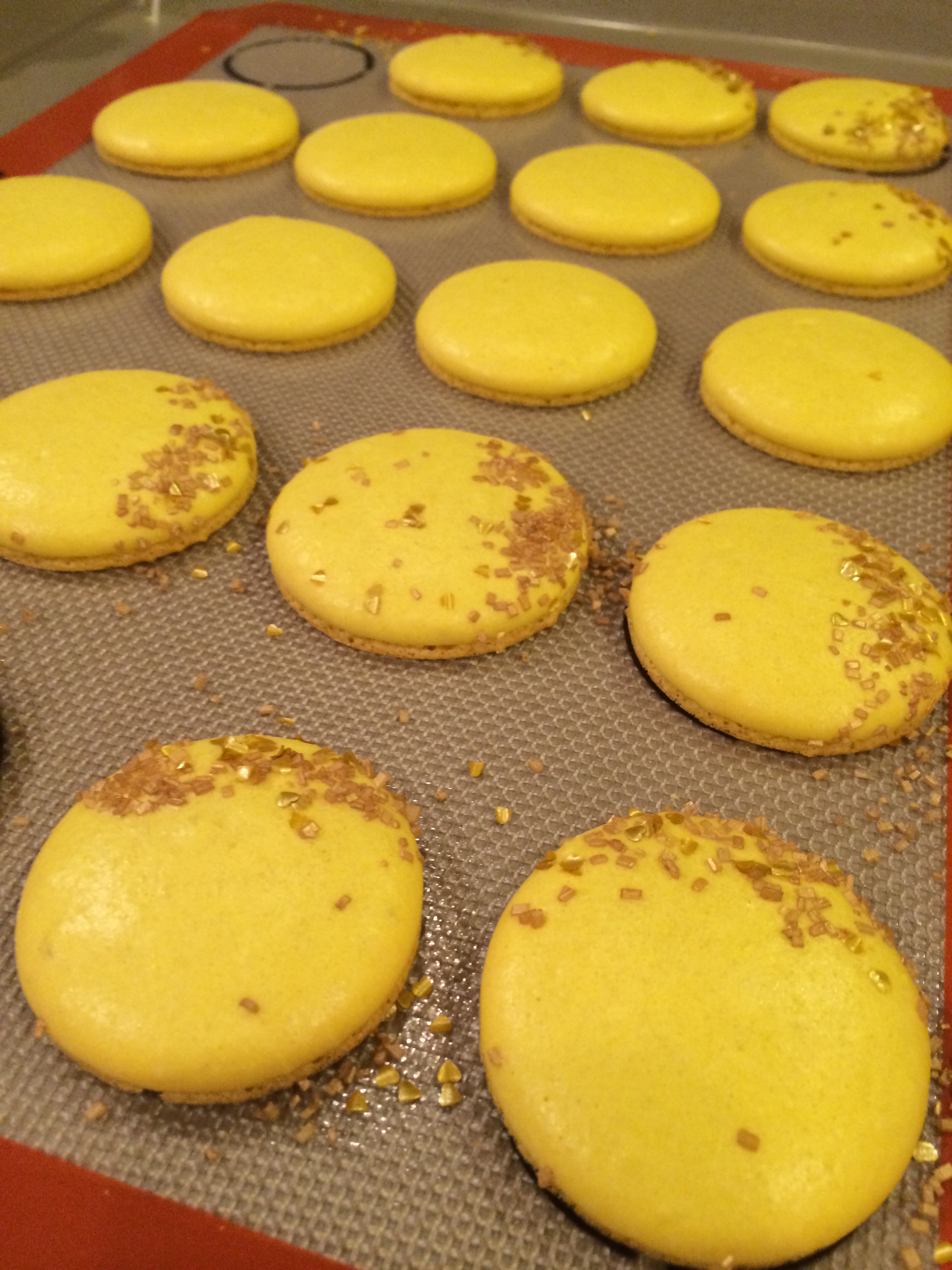 The Petite Gourmande
© 2017 by Ruth Barnes, all rights reserved












by