Blueberry Baklava

Baklava is a pretty well known Mediterranean dessert, and it's one of my favorites. In my book, I make chocolate baklava with hazelnuts and pecan pistachio baklava with orange blossom water. I make five different kinds, but this recipe is really special because it includes blueberry preserves and dried blueberries, which really bring out the flavor of the blueberries. The color is a deep, beautiful purple, and the flavor is different from anything I've even eaten. If you like blueberries, I think you'll love this!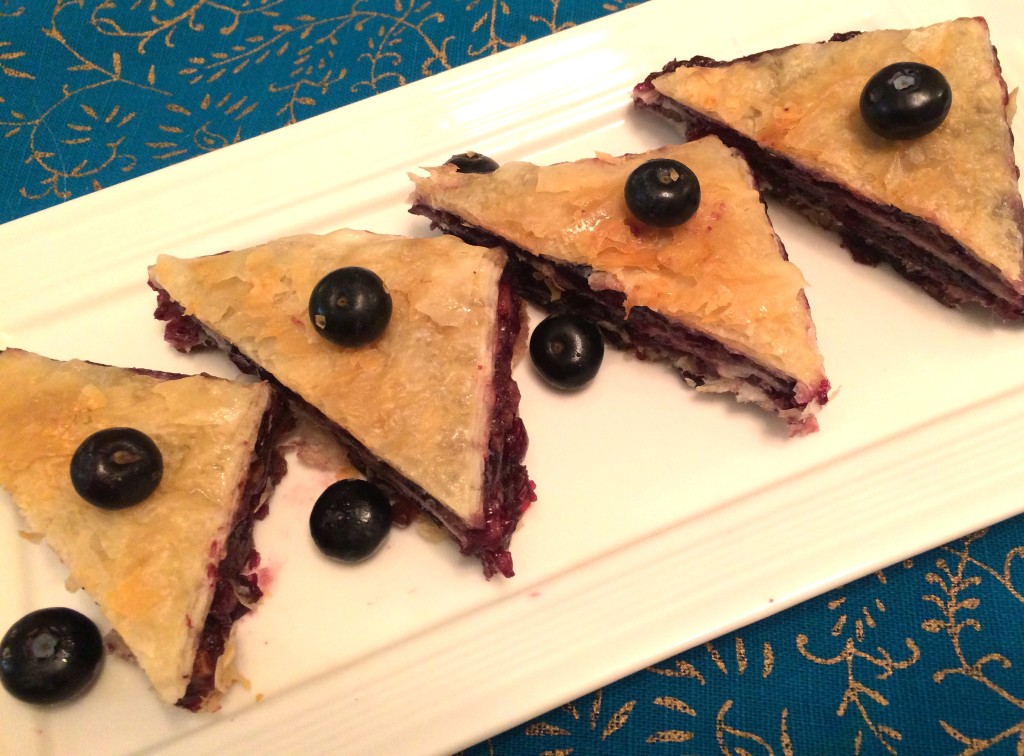 Blueberry Baklava
Serves 24
Ingredients:
1 pound (4 sticks) unsalted butter
1 package of phyllo dough (20 sheets), thawed if previously frozen
The filling
½ pound unsalted, roasted pecans, chopped coarsely
20 ounces whole, dried blueberries
13 ounce jar blueberry preserves
2 tablespoons orange blossom water
½ cup sugar
The syrup
¾ cup water
½ cup sugar
1 cup honey
3 tablespoons orange blossom water
Directions:
Preheat the oven to 325 degrees.
1. Prepare the filling: Combine the pecans, dried blueberries, orange blossom water, and sugar in a large bowl and mix well. Set aside.
2. To clarify the butter, melt it in a small saucepan over low heat until it begins to boil. Skim the foam from the top and discard it. Remove the saucepan from the heat.
3. Unwrap the phyllo dough and place it on a flat surface. While you are working with a phyllo sheet, keep the rest of the block covered with plastic wrap and a kitchen towel to prevent it from drying out.
4. Using a pastry brush, coat a medium baking dish with a small amount of the melted butter.
5. Lay one sheet of phyllo in the dish and brush it with butter. Cover with a second sheet and brush it with butter. Repeat until you have a layer of 6 sheets.
6. Spread a third of the blueberry preserve and the nut/dried blueberry mixture over the phyllo sheets.
7. Repeat step 6 twice more and top with a final layer of phyllo.
8. Make 3 cuts across the dough about 3½ inches apart across the length and 2 cuts that are about 3¼ inches across the width. Cut diagonally across each square, making 24 individual triangular pieces.
9. Pour the remaining butter all over the pastry and bake for 1 hour.
10. While the baklava is baking, prepare the syrup: Combine the water and sugar in a small saucepan. Bring to a boil, lower the heat, and simmer, stirring occasionally for about 5 minutes or until the sugar is completely dissolved. Remove from the heat and stir in the honey and the orange blossom water. Refrigerate until the baklava is ready.
11. When the baklava has finished baking, remove it from oven and pour the cold syrup all over.
12. Let it cool before serving.
Happy Cooking!
© 2017 by Ruth Barnes, all rights reserved












by