Many countries have a version of this seafood soup. The Moroccan version of Bouillabaisse has french overtone (including the Pernod and fennel) accented by saffron. Fresh seafood is essential to this recipe, which invites you on a culinary adventure to the Moroccan coast. Serves 4 to 6.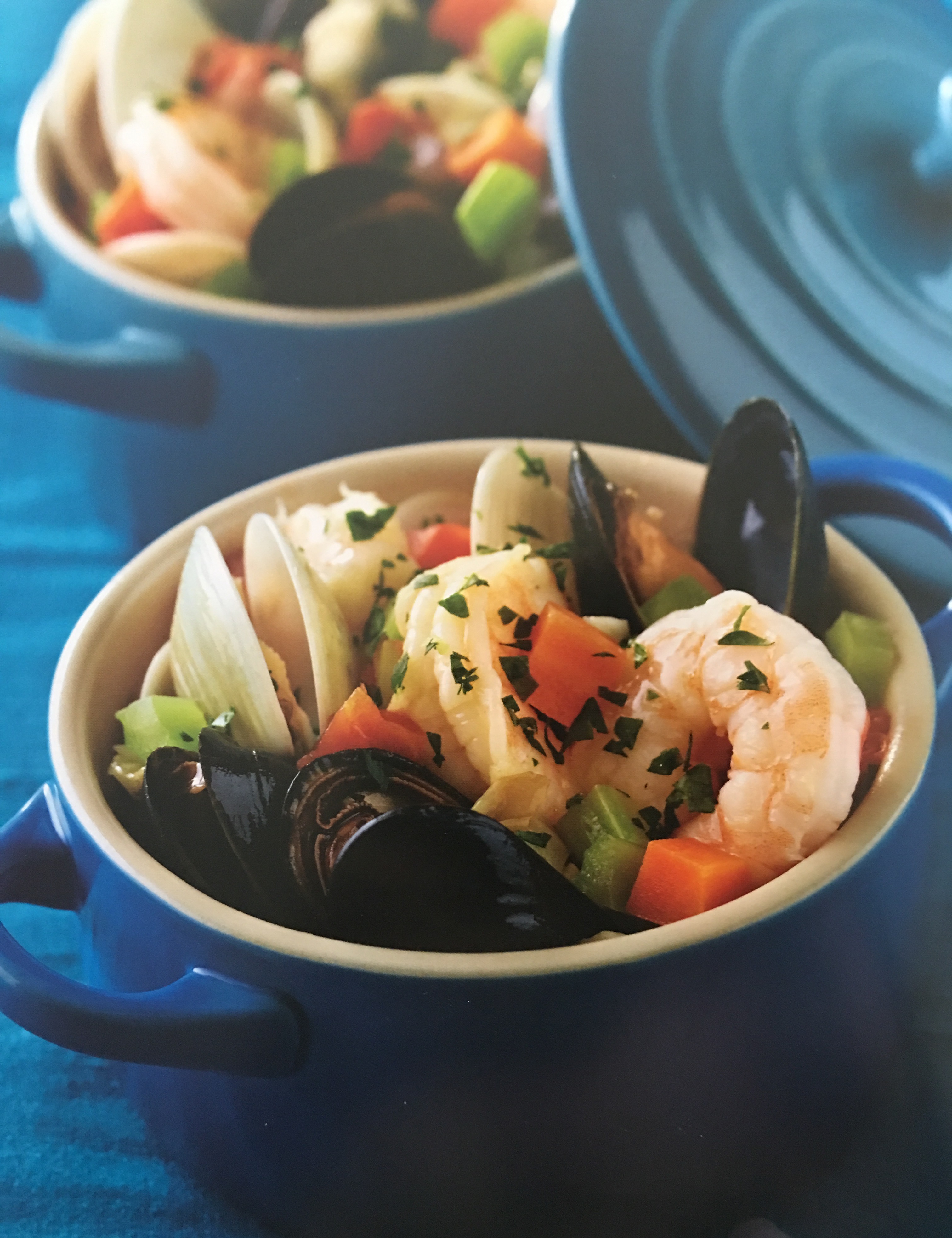 Ingredients:
– 3 tablespoons olive oil
– 1 stalk celery, diced
– 3 shallots (or 1 medium Vidalia onion), chopped
– 2 carrots, peeled and diced
– 1 fennel bulb, cored and diced
– 1/2 bunch cilantro, chopped
– 1/2 teaspoon allspice (or barahat, if available)
– 2 cloves garlic, chopped
– 1/4 cup Pernod
– 1 (15-ounce) can diced tomatoes, drained
– Pinch os saffron
– 1/2 teaspoon salt
– 1/2 teaspoon pepper
– 6 cups fish or seafood stock (or water)
– 2 pounds boneless white fish (such as cod, sea bass, or halibut), cut into 1-inch cubes
– 12 mussels, scrubbed
– 12 small clams, scrubbed
– 12 jumbo shrimp, peeled and deveined
– 1/4 bunch parsley, chopped, for garnish
Directions:
1. Heat the olive oil in a Dutch oven on medium heat. Add the celery, shallots, carrot, fennel, cilantro, allspice, and garlic, and sauté for 5 minutes or until the shallots are tender.
2. Add the Pernod and deglaze the pot. Then simmer for 10 minutes.
3. Add the tomatoes, saffron, salt and pepper.
4. Add the fish stock and continue to simmer for 10 minutes.
5. Add the fish, mussels, clams, and shrimp, and simmer until the fish is cooked and the clams and mussels are open, about 6 to 8 minutes.
6. Discard any clams that did not open.
7. Remove from the heat and paddle into baby ramekins (mini-cocottes).
8. Garnish with the chopped parsley and serve with bread.
Enjoy!
© 2017 by Ruth Barnes, all rights reserved












by