Duck pairs wonderfully with any sweet fruit. Here, the combination of weed quince and honey, melded with savory duck, makes for a rich and elegant dish perfect for this time of year. Serves 4 to 6.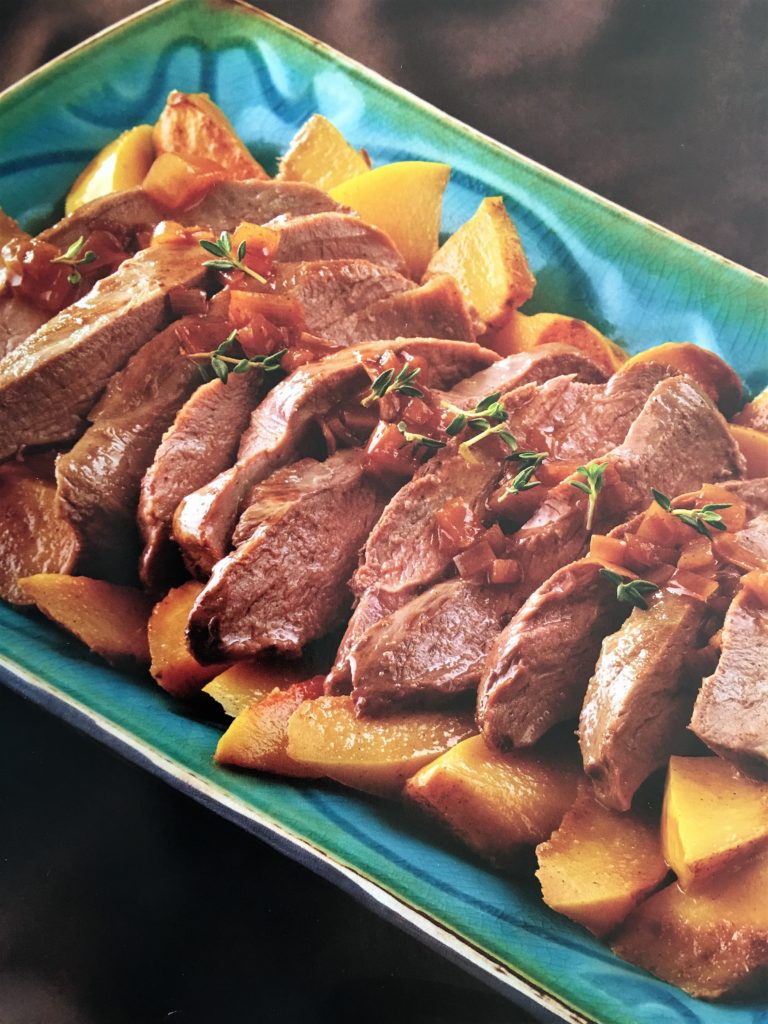 Ingredients:
– 4 duck breasts
– 1/2 teaspoon salt
– 1/2 teaspoon pepper
– 2 tablespoon olive oil
– 4 tablespoons (1/2 stick) butter or substitute
– 3 shallots, chopped
– 1/2 teaspoon ground ginger
– 2 teaspoons ground cinnamon
– Juice of 1 lemon
– 1/2 cup port wine of red wine
– 2 cups low-sodium chicken broth (or water)
– 3 large quinces, cored, washed, and sliced
– 1/4 cup honey
Directions:
1. Rinse the duck breasts and pat them dry.
2. Score the skin side of each duck breast and season with salt and pepper.
3. In a large sauté pan, sauté the duck breasts on medium heat until the skin in crispy. You may have to do this in batches. As they brown, transfer them to a platter.
4. Discard all but 3 tablespoons of the duck fat.
5. Return the sauté pan to medium heat, add the oil and butter, and sauté the shallots for 5 minutes or until translucent.
6. Add the ginger, cinnamon, and lemon juice.
7. Add the wine and deglaze the pan, using a wooden spoon to spare up all the browned bits from the bottom of the pan.
8. Add the broth, bring to a boil, and lower the heat. Add the quinces and simmer for 1 hour until the sauce is reduced by half and the quinces are tender.
9. Stir in the honey and cook for an additional 5 minutes.
10. Slice the duck breasts on the diagonal and arrange on a serving platter.
11. Spoon the sauce on the duck and surround the duck with quinces.
Happy cooking!
The Petite Gourmande
© 2017 by Ruth Barnes, all rights reserved












by