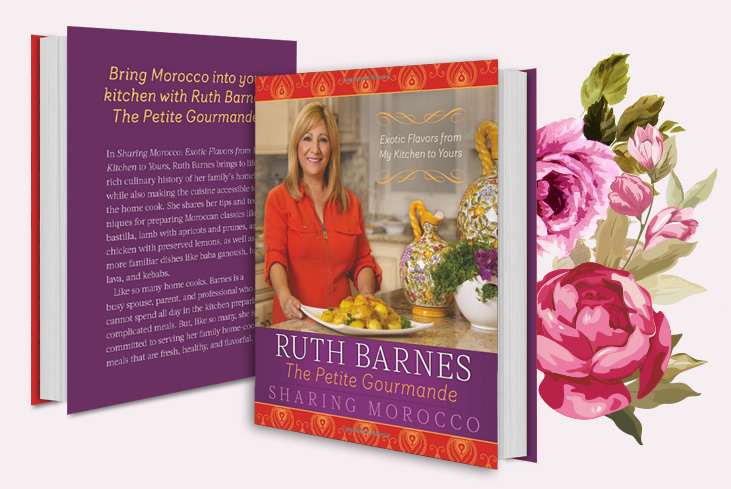 Sharing Morocco: Exotic Flavors from My Kitchen to Yours has been recognized as an INDIEFAB Book of the Year Award Finalist!
Bring Morocco into your kitchen with Ruth Barnes, the Petite Gourmande. In Sharing Morocco: Exotic Flavors from My Kitchen to Yours, Ruth Barnes bring to life the rich culinary history of her family's homeland while also making the cuisine accessible to the home cook. She shares her tips and techniques for preparing Moroccan classics like bastilla, lamb with apricots and prunes, and chicken with preserved lemons, as well as more familiar dishes like baba ganoush, baklava, and kebabs.
Like so many home cooks, Barnes is a busy spouse, parent, and professional who cannot spend all day in the kitchen preparing complicated meals. But, like so many, she is committed to serving her family home-cooked meals that are fresh, healthy, and flavorful.
In Sharing Morocco, she has simplified the recipes that she loves by identifying common ingredient substitutes or demystifying the complex spice combinations so often found in Moroccan cuisine. She does not shy away from shortcuts, like utilizing pre-made phyllo dough. And, as an avid hostess, she is an advocate for freezing an extra batch of this or that to serve to unexpected guests!
Sharing Morocco is an ideal cookbook for home cooks who are new to the flavors of the Middle East or who simply enjoy exotic food. Readers will find Barnes to be a warm and welcoming guide to a culinary journey of the colorful spices and vibrant flavors of her homeland.
What people are saying:
Containing over 100 recipes, you'll find tips and techniques blended seamlessly with Moroccan cuisine, culture, and history. From cooling drinks like almond milk with orange blossom water […] to a lovely fennel and blood orange salad […], these lighter flavorful dishes are perfect for hot summer days, while heartier stews and roasts are perfect for fall and winter.
I don't know what I like more: the gorgeous photos, the absolutely fresh ingredients, or the simplicity of the foods. This "taste" of Morocco is just that, a few beautiful, easy recipes that anyone can pull together, even after a hard day at work.