Lamb Tagine with Apricot and Prunes

This sweet and savory tagine pairs wonderfully with dried fruit and nuts such as apricots, prunes, and walnuts. Dried fruit is frequently used in Moroccan cooking; look for fruit that is still somewhat moist and not too dry. Serves 4 to 6.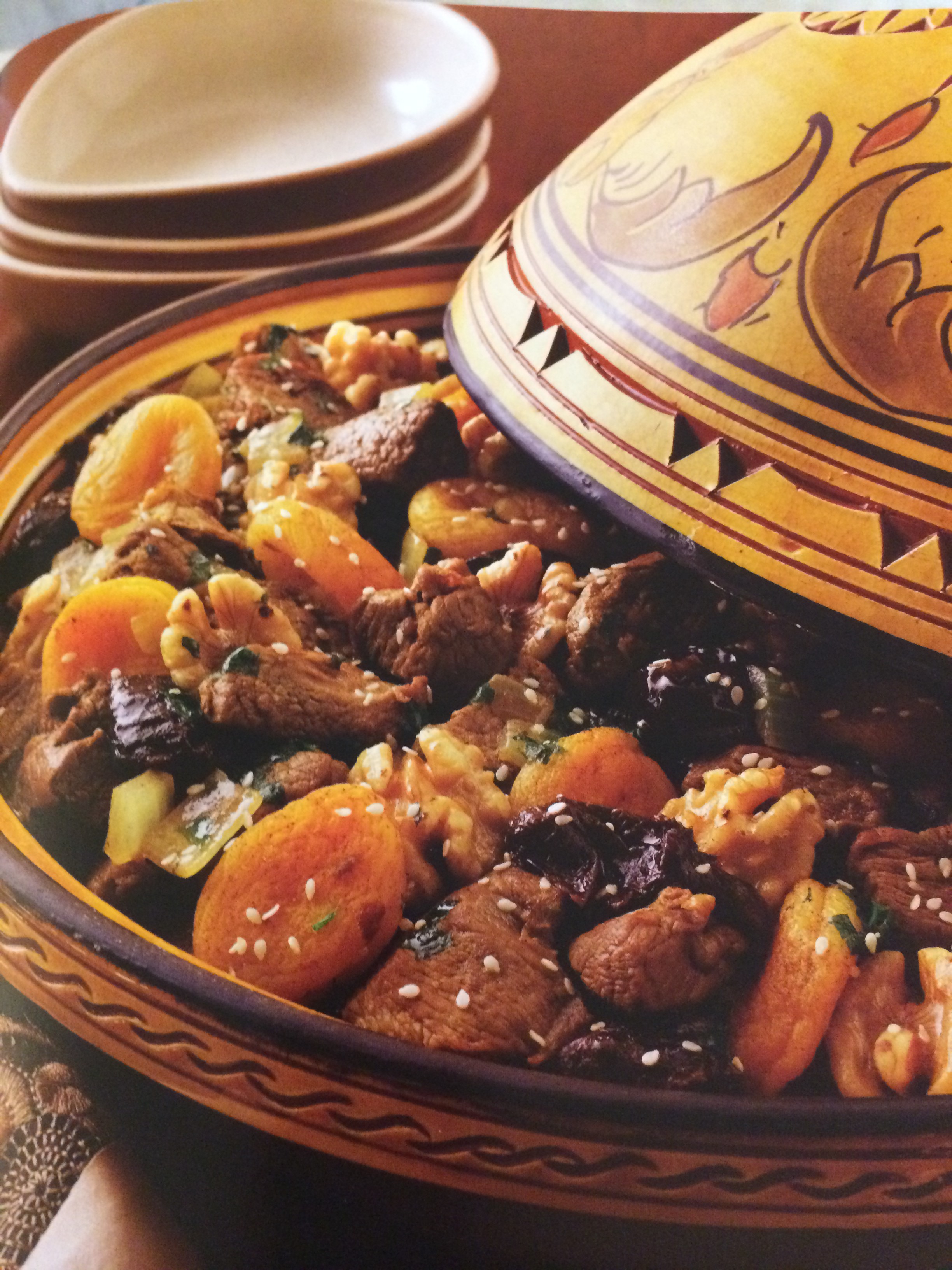 Ingredients:
– 3 tablespoons olive oil
– 3 pounds boneless leg of lamb, trimmed of fat and cut into 1-inch cubes
– 1 large yellow onion, chopped
– 1 teaspoon cinnamon
– 2 teaspoon freshly grated ginger
– 1 teaspoon turmeric
– 1 teaspoon cumin
– 1/2 bunch cilantro, chopped
– 1 teaspoon salt
– 1/2 teaspoon pepper
– 1 1/2 cups low-sodium beef broth
– 3 tablespoons honey
– 1 cup dried apricots
– 1 cup dried, pitted prunes
– 1 tablespoon sesame seeds, for garnish
– 1/2 cup walnuts halves, for garnish
Directions:
1. In a cooking tagine or Dutch oven, heat the olive oil and brown the lamb on all sides. Remove the lamb to a platter.
2. Sauté the onion for about 5 minutes, until they begin to soften. Return the meat to the pan and add the cinnamon, ginger, turmeric, cumin, cilantro, salt, and pepper. Continue cooking for about two minutes.
3. Add the beef broth. Lower the heat, cover, and simmer for one hour 15 minutes.
4. Stir in the honey, apricots, and prunes, and cook for a further 15 minutes.
5. Remove the lamb and fruit from the tagine and place on a serving tagine or platter. Spoon the sauce over the meat and fruit.
6. Garnish with the walnut halves and sesame seeds.
Happy Cooking!
© 2017 by Ruth Barnes, all rights reserved












by