Italian Flag Cookies

Italian Flag Cookies are fluffy and light and can be enjoyed with tea or as an afternoon treat.  These special cookies have just the right amount of sweetness and have almond paste as a main ingredient.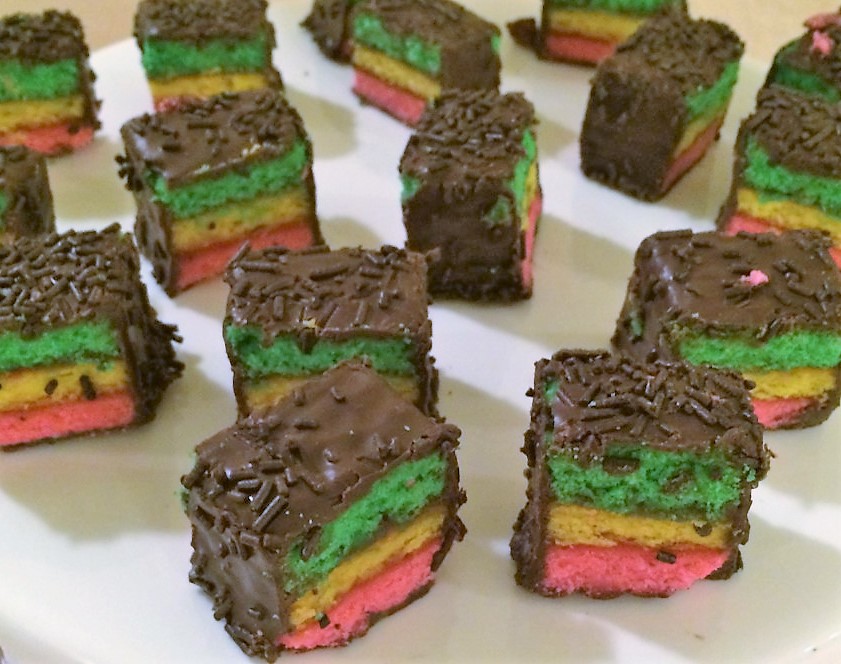 Italian Flag Cookies
Makes 24 cookies
Ingredients:
2 cups all purpose flour
2 1/2 sticks of butter
2 – 8 ounce cans of almond paste
1 1/4 cup of sugar
5 eggs seperated
1/2 teaspoon salt
1 8 ounce jar of raspberry preserves
8-10 drops green food coloring
8-10 drops pink food coloring
8-10 drops yellow food coloring
1 pound semi-sweet chocolate melted
1 teaspoon almond extract
Directions:
Preheat oven to 350 degrees
1. In a stand mixer fitted with a paddle attachment, combine the almond paste, sugar,almond extract, butter, salt and egg yolks.  Mix until smooth.
2. Slowly add the flour and continue to mix until fully combined.
3. In a large bowl beat the egg whites until stiff peaks form.
4. Gently fold the egg whites into the dough mixture and combine well.
5. Separate the dough into 3 equal parts and add one color selection to each.
6. Spread each section evenly into 9×13 baking pans and bake for 10 minutes.
7. Remove and let cool.
8. Begin building the layers, using the pink as your bottom.  Spread a layer of preserves on the pink layer and then place the yellow on top of it.  Again spread another layer of preserve jam and place the green layer on top of that.
9. In a small bowl melt the chocolate and spread a layer on top of your green layer and sides.  Scatter the chocolate sprinkles and place in the refrigerator for one hour to allow the chocolate to settle.
10. Gently flip the cake to expose the pink layer and spread chocolate on the bottom and refrigerate again for one hour.
11. Cut the cake to small squares or larger to your liking and serve.
Happy Holidays & Happy Cooking!
The Petite Gourmande
© 2017 by Ruth Barnes, all rights reserved












by