Brisket with Seasonal Vegetables

Yom Kippur is the holiest day of the year in the Jewish tradition. Yom Kippur means Day of Atonement, and it is a day of fasting, however before the fast there is a festive meal. This year my brisket with vegetables made a wonderful centerpiece.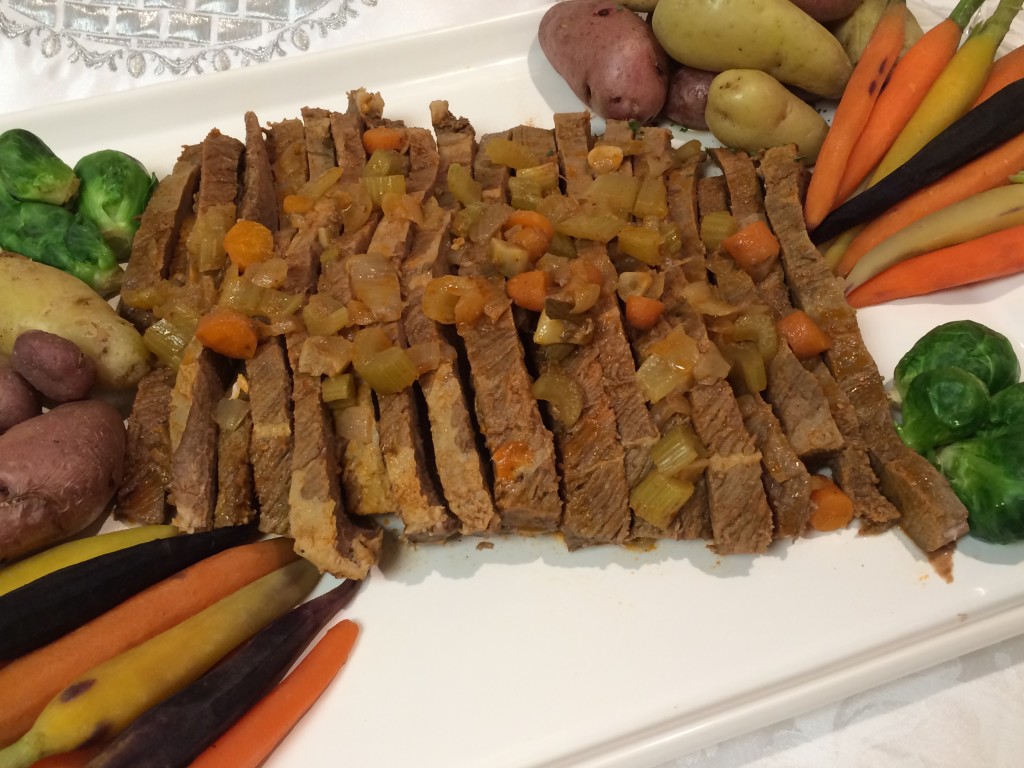 Brisket with Seasonal Vegetables
Serves 10-12
Ingredients
4 1/2 pound first cut brisket
3 bay leaves
4 carrots chopped
4 stalks celery chopped
2 large onion chopped
1 cup dry red wine
5 cloves fresh garlic chopped
1/2 cup water
1- 15 oz can diced tomato with liquid
2 teaspoon sweet paprika
1 teaspoon of kosher salt
1/2 teaspoon ground black pepper
2 tablespoon potato starch
3- 8 oz bags of color baby carrots
2- 8 oz bag of brussels sprouts
3- 8 oz bag of baby potatoes
Directions
Preheat oven to 350 degrees
1. Place your brisket in a roasting pan and sprinkle with salt, pepper and paprika on both sides.
2. Scatter all the chopped vegetables around the brisket.
3. Add the wine, diced tomatoes, bay leaves, garlic and water.
4. Cover with foil and place on center rack of oven and bake for 2 hours and 15 minutes, or until the meat is tender.
5. Carefully remove the brisket from the oven and let rest on a cutting board covered for 20 minutes.
6. While the meat is resting steam the vegetables.
7. Carefully pour the sauce and vegetables from the roasting pan into a saucepan.  Add potato starch and bring to a boil.  Lower the heat and simmer until sauce has thickened.
8. Cut the brisket against the grain and place on a serving platter.  Pour the vegetable sauce over the brisket, and serve with steamed vegetables.
G'mar Hatimah Tovah, May you be sealed in the Book of Life!
2017 by Ruth Barnes, all rights reserved












by