Spanakopita

Spanakopita is a fillo dough pastry filled with spinach and feta cheese. It's an amazing greek treat that can be served as an appetizer or a side dish. I often make these little bites at home for friends and family. Serves 8-10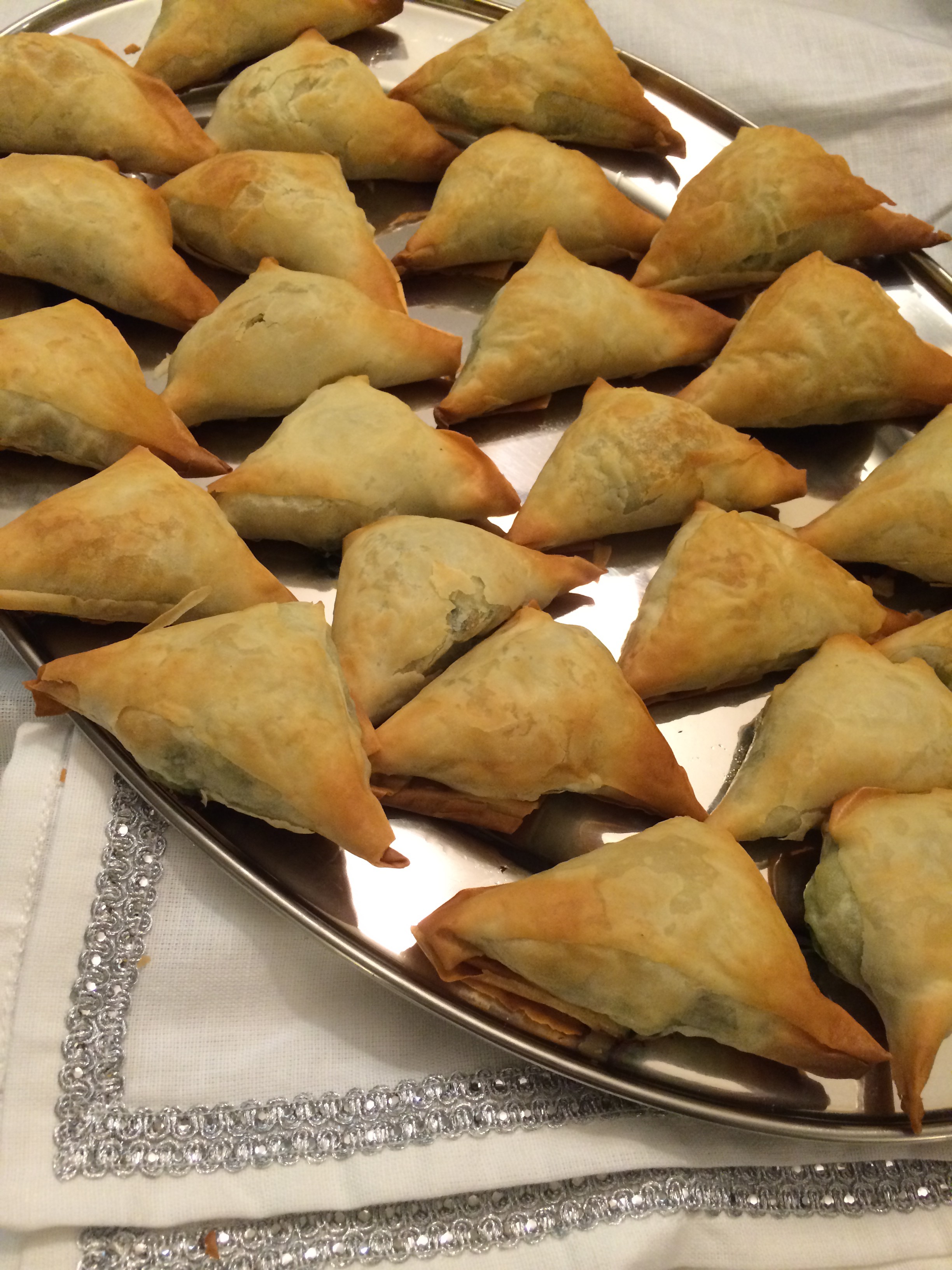 Ingredients:
– 1 pack of frozen fillo dough, thawed
– 2 12oz packs of frozen spinach, thawed and drained
– 2 8oz containers of crumbled Feta cheese
– 1 cup of shredded parmesan cheese
– 1 bunch of fresh scallions, chopped (green and white)
– 3 large eggs, beaten
– 1 large onion chopped
– 3 cloves minced garlic
– 3 tablespoons of olive oil
– 1 can of cooking spray
– 1/2 teaspoon nutmeg
– salt and pepper
Directions:
1. Preheat the oven to 350 degrees.
2. Unwrap fillo dough and place on a cutting board. Cover with a towel to prevent the dough to dry out.
3. In a frying pan, add olive oil on medium heat. Sauté the onion, garlic and scallions until soft. Remove from heat and set aside.
4. In a mixing bowl, place the spinach, eggs, onion mixture, nutmeg, feta, parmesan, salt and pepper. Mix well.
5. Cut the fillo dough into long vertical strips about 3inches large.
6. Spray each strip with cooking spray. Layer 4 more on top of each other, spraying each strip in between.
7. Take one scoop of the filling mixture and place at the bottom corner leaving a couple inches from the corner.
8. Fold the corner over the filling to form a triangle. Continue folding from left to right and back forming a triangle (Just like folding a flag). Once at the end, you can tuck the little seam in to make a perfect triangle.
9. Repeat this step until you finish the spinach mixture.
10. Place the triangles with seams down on a baking sheet.
11. Spray the triangles and bake for 25-30 minutes until golden.
12. Let it cool and serve.
© 2017 by Ruth Barnes, all rights reserved












by